INTEGRATED CIRCULAR AND ENERGY SYSTEMS – SIEC
—–
Composition of the Unit
Coordinator:
Prof. Arch. Mauro Spagnolo (CIRPS) director of Rinnovabili.it
mobile t. 3356754096
email. direttore@rinnovabili.it – mauro.spagnolo@cirps.it
—
Components
Giulia Rocchegiani (Rinnovabili.it)

Vittorio Marletto (ARPAE)

Andrea Masullo (MATTM)

Giacomo Di Nora (Rinnovabili.it)

Giorgio Dispensa (CNR)

Alfonso Rago (Rinnovabili.it)

Mario Sacco (Rinnovabili.it)
—
Description
The issues related to environmental, economic and social sustainability and to circular economy, are increasingly central today. There is no longer any economy or social organization that does not take into serious account the relationship between productivity and environmental protection and between energy/material consumption and the quality of life of citizens. The rapid development of the phenomenon of climate change, mainly due to global warming, stresses these issues with dramatic urgency and requires the identification of concrete and rapid solutions.
The SIEC Unit project was born in 2010 on these assumptions, from the initiative of university professors, researchers, professionals and scientific communicators, with the aim of developing and spreading technological innovation in the sectors of circular economy, energy production from renewable sources, energy efficiency, sustainable mobility and green building. This commitment is strongly concentrated in urban contexts (construction and mobility) and in large transport infrastructures and services. The activity of the SIEC is based on the conviction that a correct development of technological innovation in the sectors of environmental sustainability must never lose adherence with men and the context in which they live, specifically if urban. Therefore, every activity of the Unit is focused on the correlation between technological development and quality of life, which in other words could be defined as "optimization" of systems with the contexts in which we live. Furthermore, the close collaboration with the Rinnovabili.it multimedia platform allows SIEC to carry out a constant communication activity aimed at stimulating and developing environmental awareness among citizens, professionals, companies and the political class. The SIEC Unit was born with the aim of studying, in a systematic and interdisciplinary way, the multiple possibilities arising from the integration of renewable energy systems – and those linked to the circular economy – with the territory, its buildings, its cities and all applications related to human life. All the scientific activities of the Unit move from this directive and have the main aim of transferring the skills acquired in the design and application areas to the urban and building context.
—
Objectives
Develop national and international research on technological innovation linked to environmental sustainability and to the energy sector and circular economy;

Coordinate and encourage start-ups through support for innovation centers and incubators;

Develop a network of research institutes to coordinate scientific activities in line with the UN Agenda 2030 goals;

Establish observers to monitor the development and state of the art of the 17 goals of the UN 2030 Agenda;

Scout the most innovative start-ups to follow the rapid technological evolution on environmental issues;

Inform and disseminate scientific innovation by promoting, through the Rinnovabili.it platform, the excellence of Italian environmental research to different targets: citizens, economic systems, political class;

Encourage environmental awareness by conveying green scientific innovation, and its applications, from universities and international research institutes to the knowledge of citizens using suitable interactive languages and tools.
–
Thematic areas
Circular economy

Renewable energy (production and storage)

Energy efficiency

Smart grids and systems

Transport and mobility

Green building
–
Collaboration agreements
Sapienza Università di Roma – Università di Roma Tre – CNR – ENEA – Università di Siena – IPREDIL spa – Ryerson University – Banca Prossima – Federparchi – Regione Lazio – Regione Puglia – LegaPro – Legambiente – WWF Italia – Greenpeace
–
Activities
The SIEC research unit is active in the following areas: 1. Project design; 2. Conferences, seminars and courses; 3. Radio-TV scientific dissemination; 4. Scientific journalism.
—
1. Projects
Complete planning (preliminary, definitive and executive) of: oceanographic boats with wind propulsion; solar stations for charging electric cars; retractable ecological islands; urban design using renewable technologies; solar roofing for sports facilities; public works such as schools and multi-purpose centers that are energetically autonomous; bioclimatic health centers for post-earthquake reconstructions; solarization of entire residential neighborhoods and public buildings. Studies on the Carbon Footprint of some recycled materials and evaluation of the energy uses of geothermal groundwater fluids. Design of projects for zero impact parks and stadiums.
–
Main projects and studies:
–
CNR – Study and design of a mixed propulsion oceanographic unit;

Municipality of Palermo, ENEL, Municipalizzata di Palermo and ANIT (Ansaldo Agip): interchange parking at the Notarbartolo railway station. This project is the first solar station in the world for the recharge of electric cars;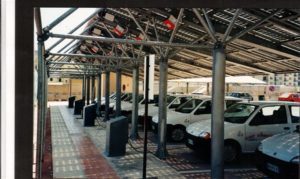 Municipality of Trevignano Romano: Covering structure of the tiers of the municipal stadium, with an integrated 40 kWp photovoltaic generator. This project won a call from the Ministry of the Environment obtaining financial coverage for 100% of the costs. It is the first solar stadium project in the world;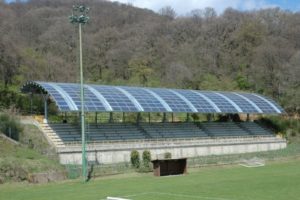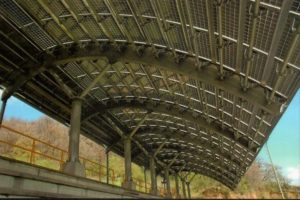 Municipality of Trevignano Romano: Design of the Municipal Multifunctional Center designed with advanced criteria of energy efficiency and energy generation from renewable sources;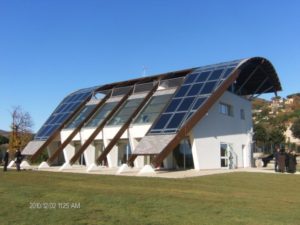 Region Lazio – preliminary design of the solarization of the regional headquarters in via Cristoforo Colombo Rome;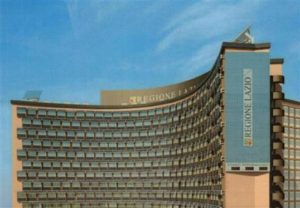 Municipality of Formello (RM): design of the Rossellini middle school and the annexed school services building. These buildings have been designed with advanced criteria of environmental sustainability and energy independence. In order to obtain complete passivity, the building was equipped with active systems for the use of different renewable energy sources and passive energy saving solutions;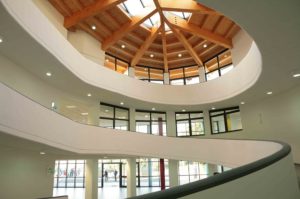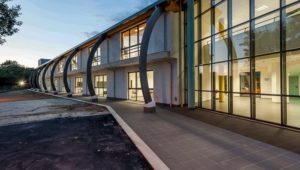 Municipality of L'Aquila: International Red Cross Health Center – Design of a completely passive building;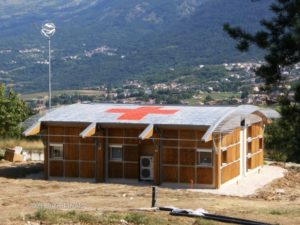 Consultancy on green technologies (environment, energy and circular economy) as part of the international event Makers Fair Rome.
–
2. Main conferences, seminars and courses
Università La Sapienza, Faculty of Architecture: Chair for the course "Plants and environmental compatibility";

ISES ITALIA: Scientific responsibility for the course "La progettazione sostenibile in edilizia" – "Come finanziare le energie rinnovabili" – "La certificazione energetica negli edifici" – "Le ESCO: nuove frontiere dei servizi energetici";

Università La Sapienza, Faculty of Engineering – Department of Mechanics and Areonautics: Scientific responsibility and coordination of the higher education course "Energy efficiency in buildings", in the framework of an agreement between Università La Sapienza and the firm Spagnolo Rocchegiani Architetti Associati;

Dozens of modules in 1st and 2nd level University Masters, responsibility and coordination of professional courses for public bodies, associations, training schools;

Organization and moderation of dozens of conferences and roundtables in the field of environmental sustainability (see the Italian version);
–
3. Radio-TV scientific dissemination
Scientific dissemination activities through consultancy contracts or collaborations in the following broadcasting programs: RAINOTTE (RAI DUE), TG Parlamento (RAI UNO),  AMBIENTE ITALIA (RAI TRE), TG LAZIO (RAI TRE), EXPLORA (RAI Educational), ORE LOCALI (TeleLAZIO).  Habitat (RADIO RAIUNO), RAI UTILE, "IL NOTIZIARIO DELLE RINNOVABILI "(ECORADIO), QLUB RADIO, RADIOEUROPA (RADIORAI UNO), GR delle Rinnovabili (LIFEGATE RADIO), Unomattina (RADIORAI UNO), Cose dell'altro GEO (RAI TRE), ISORADIO (RADIORAI), ALLE FALDE DEL KILIMANGIARO (RAI TRE), RADIO EUROPA (RADIORAI UNO), Condominio Terra (RAI DUE), RADIO DAYS (RADIORAI DUE), LINEA VERDE (RAIUNO), ETABETA (RADIORAI UNO).
–
4. Scientific journalism
Dozens of books, reviews, reports, scientific and informative articles on magazines and newspapers have been published by members of the Unit:
Spagnolo, F. Vivoli – book: "INTEGRAZIONE DEI SISTEMI FOTOVOLTIACI NEGLI EDIFICI E NELLE INFRASTRUTTURE URBANE", ENEA / Ministero dell'Ambiente / Ministero dell'Industria;

Spagnolo – book: "IL SOLE NELLA CITTÀ – L'USO DEL FOTOVOLTAICO NELL'EDILIZIA", Franco Muzzio Editore, 2007;

Rocchegiani, M. Spagnolo – founders of the electronic daily newspaper Rinnovabili.it, a leading publication in the sectors of economic and social environmental sustainability;

Spagnolo – book: "EFFICIENZA ENERGETICA NELLA PROGETTAZIONE", Edizioni DEI, 2007;

Articles, reports, editorials on circular economy, renewables, energy efficiency, mobility, green building, published on the following medias: Rinnovabili.it, Repubblica.it, METRO NEWS;

CNAPPC – Consiglio Nazionale degli Architetti: editorial direction and coordination of the monthly environmental information magazine for Italian architects;

OBIETTIVO4.0 – CNI Consiglio Nazionale degli Ingegneri: editorial direction and coordination of the monthly environmental information magazine for Italian engineers.