| | |
| --- | --- |
| | HOST PROJECT |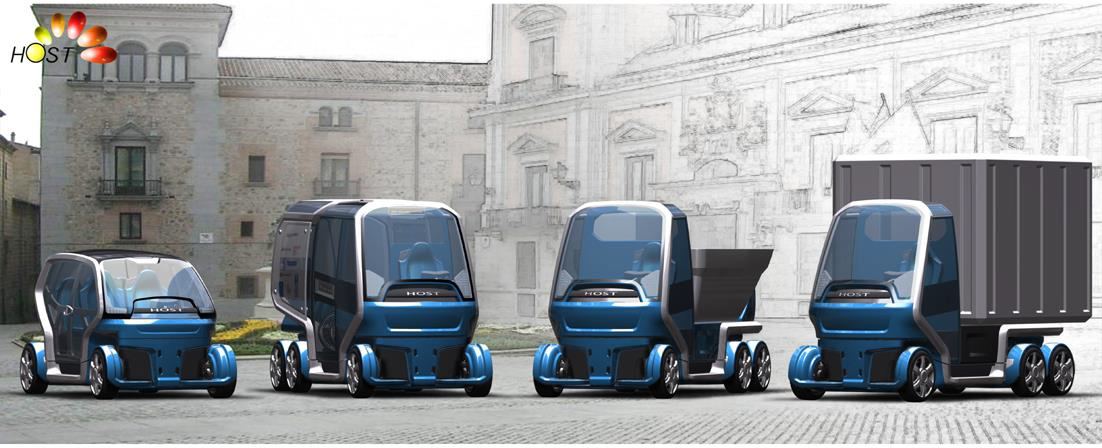 About HOST
HOST – Human Oriented Sustainable Transport is a vehicle prototype created thanks to an investment of 3.5 million euros (of which 2 from the European Commission, provided under the 7th Framework Program of Applied Research). HOST is a vehicle designed to work 24 hours per day in urban areas, based on the concepts of flexibility and modularity. Both concepts reflect the human activity in an urban area imposing upon the vehicle's design an exchangeable typology that make it suitable to perform several different missions. The possibility to easily vary the platform main dimension enables HOST to be equipped with very different bodyworks, thus providing new services for mobility and goods transportation in towns, organizing in a sustainable and more rational way the urban motorized traffic.
History and evolution

The idea was born in 1998 with a national project that proposed for the first time the idea of a "motorized platform" with electric motors integrated in the wheels and the possibility of maneuvering in rotation and translation.  From 2003 to 2009 HOST was financed by the European Commission. The Project had 9 international partners coordinated by CIRPS.

The prototype was presented at the "Innovation Cube" area of the Bologna Motor Show in 2008, Which was fully covered by national media and press. 
Strategic objective: creation of a spin-off company
HOST has been exhibited as Italian technological excellence at the Museum of Science of the Future "Miraikan" in Tokyo. Now it must generate entrepreneurial activity in Italy, as a university spin-off.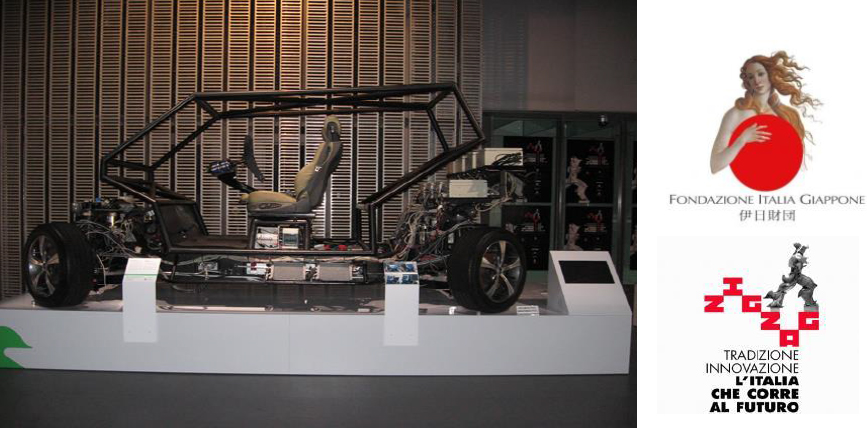 Key features:
It has a single platform for a modular multi-purpose urban vehicle, which can be configured, in a very short time (minutes), as a collective taxi or car sharing vehicle, as a school bus, a light goods distributor or light waste collector;

Minimized dimensions allow mobility even in urban streets with a narrow track;

Maximum mobility thanks to the possibility of rotating the 4 (independent) wheels (the wheels each contain an independent electric motor, for traction and rotation, which reduces the overall dimensions of the vehicle significantly;

It can be a zero-emission vehicle with a completely "clean" operating cycle, in its configuration with "green" fuel cells and hydrogen;

"Full drive by wire solution" commands.
HOST prototype is going to be developed in its second generation version, looking at the industrial application.
Watch the video
The prototype at H2 Roma Event